Chup Movie Review: I have a problem with the climax of this Dulquer Salmaan-Shreya Dhanwantri film…
Chup Movie Review: There is a famous couplet of Kabir, 'Nindak niraye rakhiye aangan kuti chhayay, bin pani soap bina nirmal kare subhay…' means people who criticize you should always be with you because they have always been making your nature better with their criticism. These 'detractors' of Kabir are called critics in the world of cinema and these critics often influence the audience with their opinion. Director R.K., who has been making different kind of cinema for years. Balki's film 'Chup: Revenge of the Artist' is the story of 'serial murder' of these critics.
what does the story say
The film 'Chup' is the story of a serial killer, who is meticulously killing those critics who are giving very few stars to a film, week after week. The method of killing this serial killer is so shocking that even Sunny Deol, who became a police officer, gets furious to catch him. The trouble of the police increases even more when there is talk of snatching this case from it and reaching it to the CBI. Go to the film and find out who is this serial killer and what is the connection of this story with Guru Dutt.
Amazing performance by Dulquer Salmaan, Shreya Dhanwantri
'Chup' is a great film, in which I liked the beautiful frames, the newness of the story-concept. Balki Saheb has collected many numbers in taking the story on the screen regarding this concept. Dulquer Salmaan takes the rest of the numbers of his film. Dulquer is the soul of this film, in fact it is his story. Despite his habit of talking to himself on screen and even after getting a few hints from his character, you will fall in love with him every time he is on screen. Shreya Dhanwantri is also working to win hearts on screen. Shreya has played her character, style and character of being a 'well-mannered journalist' very well.
The film 'Chup' is the story of a serial killer.
psycho is not thriller
From the very first scene in the film, you will see Sunny Deol and a very different Sunny Deol. Such a policeman who has a brain, is angry and at the same time he is also doing subtle-humor. Pooja Bhatt's character is only for a while but she is good in her role. The screenplay of the film is also fun, and some frames have been prepared very beautifully. But because this film is a psycho thriller, the style of psycho is completely visible but there is nothing much like thrill in this film. You know who the killer is before the policemen do. There is not much like suspense for the audience in this film, because it is kept only for the police.
Many journalists were sitting around me watching this film, and as soon as the interval happened, everyone was asking each other that how many stars will you give to this film brother… If you give less than half a star, then think that the critics are not safe. Some critics have even jokingly mentioned in their reviews that brothers cannot give it less stars. But my problem starts with this joke and the spread of this idea. Cinema is a subjective subject. In what state of mind you are watching a film, in what environment you are watching it, all this matters a lot in deciding the experience of a film. Just like sometimes very bad jokes of a film are funny with friends, on the other hand sometimes even funny jokes are not liked when the mood is bad. Cinema, films are an experience and critics often say the same thing in their reviews that I had such an experience or I liked this film like this…
Talking about this film, I have two different opinions on art and plot. The aspects of art that I have mentioned above, this is a good film and must be seen. But I do not agree at all with the 'justification of violence' in its plot and climax. In a scene of the film, Pooja Bhatt is seen explaining, 'Psycho killers are usually of 4 types. In which one type of psychokiller links it to a mission to justify their crime. They find some reason or the other that they feel that what they are doing is right and this is justice. We are justifying this mindset of psycho killer in the climax of the film.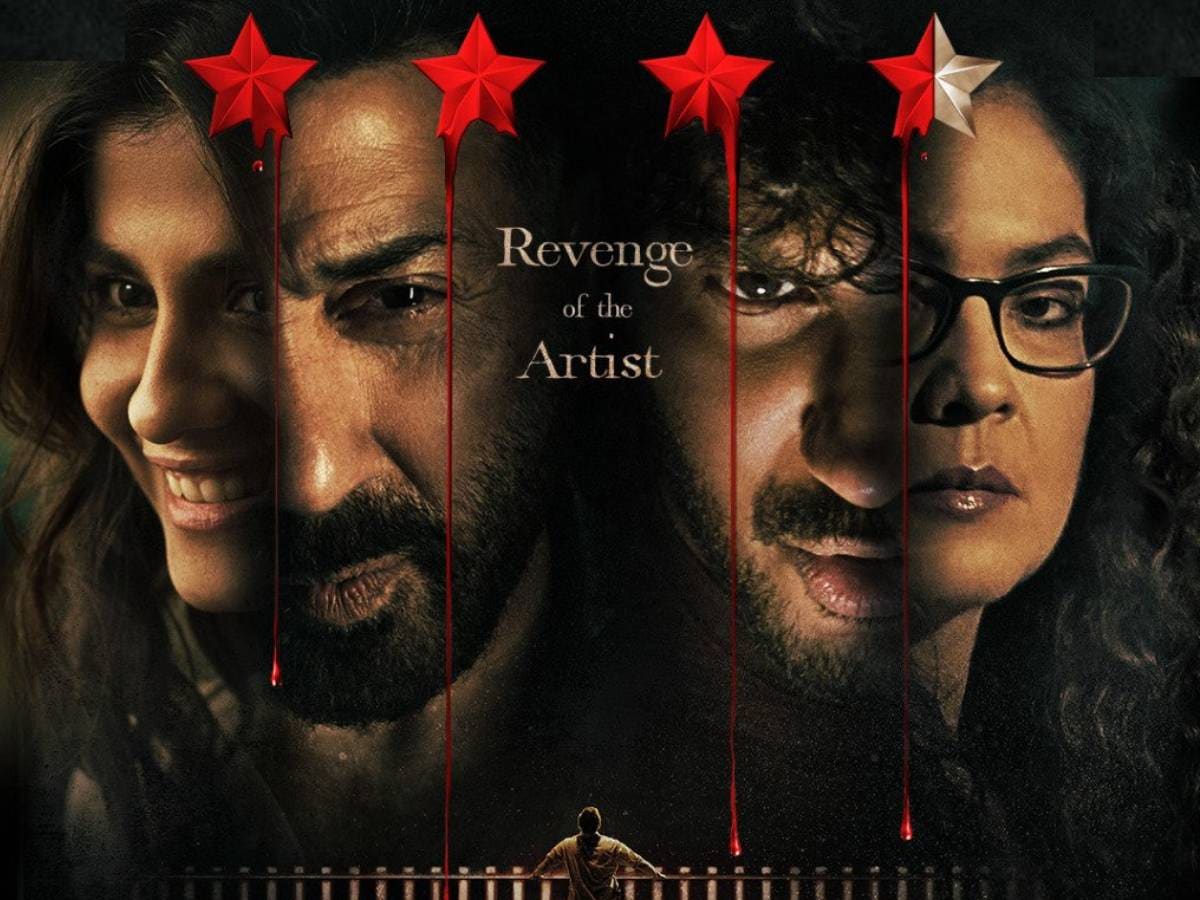 Sunny Deol and Pooja Bhatt are also seen in Chup.
You will do research, because the director did not do that much
In Hindi cinema, from 'Kaagaz Ke Phool' to 'Andaz Apna Apna', there have been many films which have been rejected not only by the critics but also by the audience at the time of release, while the history of many films is such that the reviews are good. Haven't met but got a lot of love from the audience. The biggest example of this is the recent 'Kabir Singh', which was heavily criticized, but no 'review' could make this film unsuccessful. In the film, the so-called suicide of Guru Dutt Sahab is also linked to the failure of 'Kaagaz Ke Phool'. But let me tell you that 'Kaagaz Ke Phool' was not his last film. Do the rest of the research yourself, because the director has not done that much. R. Talking about Balki's 'Chup', there can be a lot of talk on its idea, but as a film it is a good film and this aspect must also come in front of the audience. 3 stars to this movie from me And among these stars, you can give a lot of credit to Dulquer and Shreya.
detailed rating
| | | |
| --- | --- | --- |
| Story | , | |
| screenpl | , | |
| direction | , | |
| music | , | |
First read breaking news in Hindi News18 Hindi| Read today's latest news, live news updates, most reliable Hindi news website News18 Hindi.
Tags: Dulquer Salmaan, R Balki, sunny deol
FIRST PUBLISHED : September 23, 2022, 17:29 IST