Dastan-Go: It is better to call Gujarat's Amul as India's 'priceless heritage'
Dastan-go: Is there any time to tell or listen to stories? Maybe it would have happened. May or may not happen. But one thing definitely happens. Everyone likes stories and stories. It is better if they are present on time. If not, even if they are from the past, there is no harm. Because they always go not only by telling us something, but also by teaching us. Brings back memories of our era. Even a handful of serious spices are sweetened and given slowly. That's why 'Dastaan-Go' has started the process of taking interesting stories to your loved ones. Will try to continue this series. Monday to Friday, everyday…
,
SirThis is about the year 1945. At that time, a large area of ​​Gujarat used to be under Bombay province. That's why the British government of the state started a scheme. Through this, milk was to be purchased from Kheda and its surrounding areas. Then it was to be made available to the people at subsidized rates. It was a good thing. Till now no one had any problem. But the trouble started when the British gave the responsibility of buying and selling milk under this scheme to a pair of 'Polly-Polson'. Remember 'Polly-Polson'? Arey those who became proud like the 60,000 children of King Sagar. I had read about him only yesterday, on 24 November! The first story of Dudh-Ganga In! This is a story ahead of that. So sir, 'Poly-Polson' had come out for business expansion. That too on his own terms. On this he got support from the British government.
Although the support received from the government was in the form of responsibility, but the 'Poli-Polson' duo forgot all that and started arbitrariness. Because at that time there was no other company doing milk-butter business in India. She was the only one, 'Poli' i.e. 'Polson', the business progeny of Pestonji Edulji. So sir, now these 'Poli-Polsan' have started buying milk from the milk-producing farmers in and around Kheda at a throwaway price. And keeping huge profits in his pocket, he started selling milk at subsidized rates in Bombay and its areas as per the government scheme. Now one may ask here that when the rates for selling were subsidized then how the profit was big? So the answer to this is that the scheme was of the government only, and the government had fixed concessional prices for selling milk, not for buying it. On top of that, there was also an arrangement to compensate the loss of the company.
So in this way, this government help was also given to 'Poly-Polson' to fulfill its business-expansion plan. And milk-producing farmers soon came to know about this. They understood that this company is cheating them with the connivance of the government. So, he made a plan to give an answer to this deceit with force. The power of penance. Even the 60,000 arrogant boys of King Sagar were destroyed by Kapil Muni on the strength of penance. Then when Bhagirath, his great-grandson in the third generation after Sagar, brought Mother-Ganga from heaven to earth, that too on the strength of penance. And Gangadhar-Shiva, who tied the speed of Mother Ganga, who descended from heaven, in the locks, they are ascetics. So, ready to get the face of 'Gangotri in the story of Milk-Ganga', the farmers of Kheda area also chose this path. Of penance And their leader was Tribhuvandas Kishibhai Patel.
So sir, this Tribhuvandas was not there, his intentions, courage, methods were all Gandhian. So he first decided to meet Sardar Vallabhbhai Patel by taking the nearby farmers along. This is a matter of 1945 only. Till then Sardar Patel had established a special influence in the politics of India. People started considering him as the personality of Pandit Jawaharlal Nehru's competition. He was a Gujarati anyway. He was born in Nadiad near Kheda. So, Tribhuvandas found them the most favorable. So they reached to him. Just like, King Bhagirath had reached near 'Gangadhar-Shiva'. That Lord! Mother Ganga has to be brought to earth. You show the way and when they land on the earth, take care of their speed. And as 'Gangadhar-Shiv' immediately agreed, similarly Sardar Patel agreed. To support Tribhuvandas's Bhagirathi effort related to 'Descent of Milk-Ganga'.
Just, Sardar Patel gave a suggestion to Tribhuvandas, 'Tribhuvan is the only way to remove Polson. Dairy should be yours. of farmers. You should have your own co-operative dairy. So that the profit does not go into the pocket of any middleman. Only you people should get its full benefit. It is said that since 1942, Sardar Patel had been strongly advocating that farmers should have their own cooperative organizations so that they get maximum profit from their produce. All the buying and selling of their produce should be done through these cooperatives. Therefore, to remove the problems of milk-farmers, he suggested this method, which Tribhuvandas also understood. Not only this, Morarji Desai was among Sardar Patel's trusted leaders during that period, who later became the Vazir-e-Ala of India.
Desai sahib is also Gujarati. It is said that Sardar Patel then sent him to Kheda to help Tribhuvandas and the farmers associated with him. There it was decided under the leadership of Desai Saheb and Tribhuvandas that the farmers would now form their own co-operative organizations and the British government would be demanded to buy milk through these organizations only. Not through any 'Poly-Polson'. This decision was taken in the meeting held in Samarkha village in the year 1946. Its information was also conveyed to the government. But the government is the 'government'. And that too the British government? Didn't agree. He completely rejected the demands of the milk farmers. In such a situation, Tribhuvandas remembered one more thing of Sardar Patel, 'Think well Tribhuvan. The path is difficult and risky. If you guys are ready to take the risk, then I am with you. This instruction was like the old times.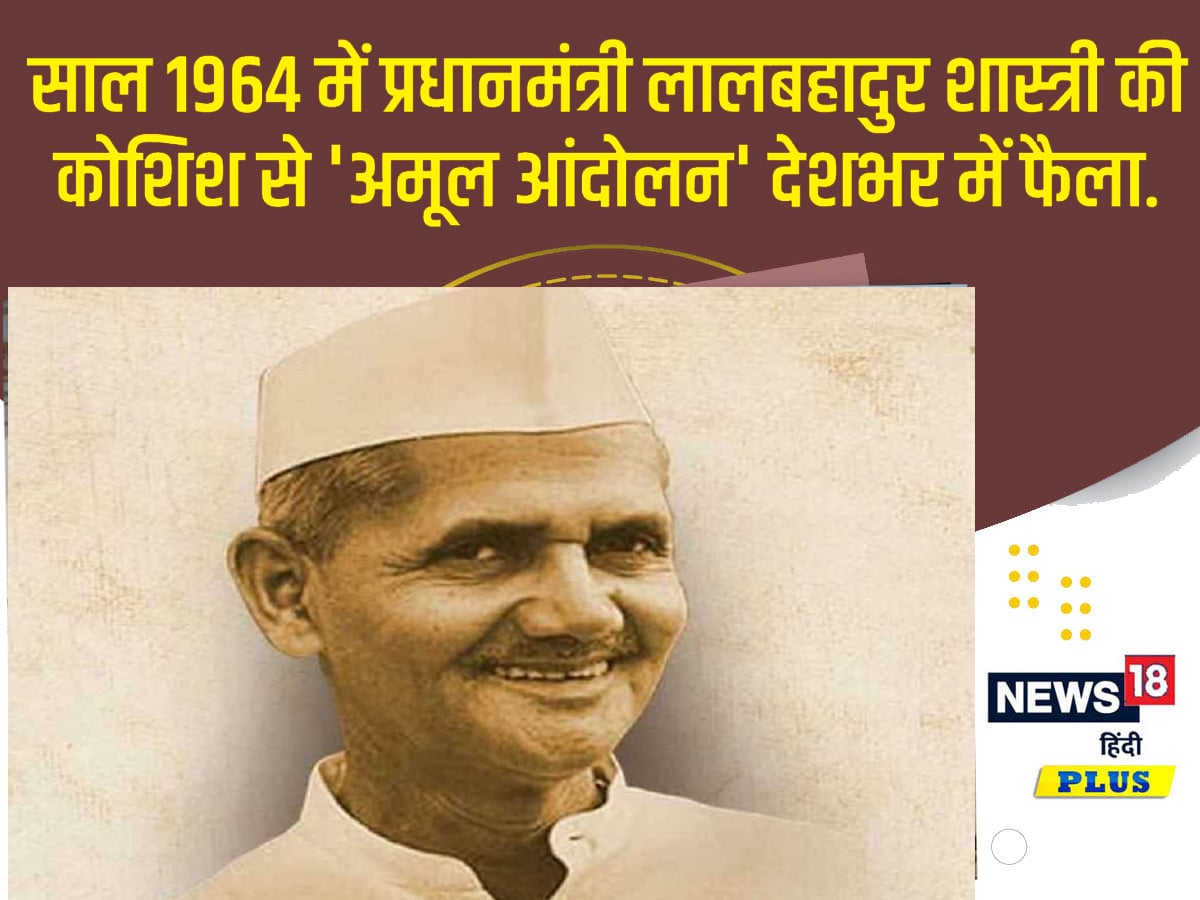 The old era, of the descent of 'Maa-Ganga'. At that time King Bhagirath was also given a similar instruction, 'Remember Bhagirath. There is a lot of risk in bringing Mother Ganga on earth. Because Maa-Ganga will follow your chariot. That means you have to walk ahead of them with a faster speed than their speed. Otherwise…' says, then King-Bhagirath again did penance and obtained horses that run at the speed of the wind from the gods, harnessed them to his chariot and went ahead and 'Maa-Ganga' followed him. In this way, reached the place where the ashes of their ancestors (60,000 sons of King Sagar) were lying. And then moved away from the path of 'Maa-Ganga'. After this 'Mother-Ganga' merged into the sea. Think about that risky adventure. The milk farmers of Kheda also did something similar. When the government did not listen to him, he stopped the 'Doodh-Ganga' flow.
When the milk-farmers stopped the flow of 'Milk-Ganga' going towards the government, Sanaka was drawn in Bombay and its surrounding areas. Trahimam-like situation has happened in the houses of 'Laat-Sahib' people who are fond of milk, cream and butter. Bombay used to get milk mostly from the areas of Kheda and Anand. And from there his inflow had stopped all at once. In such a situation, the government first tried to shelter the farmers on the strength of the stick. But all this was ineffective. This 'milk strike' lasted for 15 days. And finally the government itself had to bow down. It is said that this 15-day milk strike was probably in the month of November only, after which the commissioner of the Dairy Department was sent to Bombay to talk to the 'milk farmers'. But they remained English. Did not know Hindi. So, he took an Indian officer with him for help and both reached Kheda.
During the conversation with the commissioner, the milk farmers reiterated their same old two demands. The first is that they should be allowed to form cooperative organizations. It should be registered as a co-operative society in the official documents. And secondly, that the government should purchase milk for the 'Bombay Milk Scheme' only from the co-operative organization of milk-farmers. It is said that in this regard, the Commissioner of the Dairy Department had earlier refused to accept these demands. But then his Indian assistant officer explained to him, 'Sir, accept it. Let them make it a co-operative society. Let's see how many days it lasts. By the way, he is an Indian, sir. They feel strong in walking even two steps together. Will not be able to walk for long. And the commissioner-saheb trusted this advice of his 'trusted officer'. In those days, there were thousands of such Indians who helped the British. Well
So sir, after getting the approval from the government, the farmers of Kheda formed the first cooperative society. 'Kheda District Cooperative Milk-Producers Union Private Limited, Anand'. That date was in the year 1946 itself, December 14, which is just about to come. That day, like the first brick in the foundation of Gujarat's 'Doodh-Ganga Andolan-Amul', this organization made the official document place. And then it went on being recorded in history as 'Amul: Priceless Heritage of India'. However, instead of December 14, the date of November 26 has found a place as 'National Milk Day' in India's 'Doodh-Ganga Movement'. So, the question may be why? Answer tomorrow only.
That's all for today. Khuda Hafiz.
,
you read in the last episode
Dastan-Go: The story of 'Doodh-Ganga' flowing from Gujarat is also like 'Maa Ganga', pay attention!
First read breaking news in Hindi News18 Hindi| Read today's latest news, live news updates, most reliable Hindi news website News18 Hindi.
Tags: Amul, Hindi news, News18 Hindi Originals
FIRST PUBLISHED : November 25, 2022, 08:20 IST