Explainer: What are the jail rules and facilities for VIP prisoners?
highlights
What happens to VIP prisoners in jail, what are the facilities provided
What food and facilities should such prisoners get in the room
The Ministry of Home Affairs prepared the Model Prison Manual in 2003 based on the recommendations of the committee.
In a new video that has surfaced of Delhi government minister Satyendar Jain, who is jailed in a money laundering case, he is seen eating hotel food while a man is pressing his leg. It has been claimed in this video that they are also being given special food boxes. Now it is not known whether Satyendar Jain's status in jail is that of a VIP prisoner or not. However, according to the jail manual, if a minister is jailed in cases of economic offences, then he can be considered as VIP imprisonment. Jail manual also states that there are rules and regulations for undertrial prisoners in jail.
Know what these rules and regulations are. By the way, after the release of Satyendar Jain's video from Tihar Jail, the court has asked the jail administration how it got leaked. The court clearly said here that the jail administration should provide Satyendar Jain the food which is given to the undertrial prisoners. If he is on fast or fast, then according to the rules 339, 341 and 1124 of the Delhi Jail Rules, 2018, Jain food of the fast should be given.
Usually, whenever an MLA, MP, minister or a big industrialist goes to jail and if he is undertrial in cases of economic crime, he demands those facilities, saying that he is superior or VIP, which is given in the manual in jail. They are given separately.
from your city (Delhi-NCR)

Question – What is Superior Class?
The facilities under the superior class include a table, a post, newspaper, a wooden bed for sleeping, a carpet, a cotton sheet, a mosquito net, a pair of slippers, a cooler, outside food, separate food inside the jail. Can be built etc. facilities are provided. At the same time, a plate and a glass have been given to a common prisoner to eat. Carpets and blankets are given for sleeping.
Question – Who are VIP prisoners?
Prisoners have the right to apply for 'VIP status' on the basis of their social status and economic profile on their convictions. Normally for VIP prisoner former Union Cabinet Minister, Minister of State, Member of Parliament (MP), Member of State Legislature, Former Speaker/Deputy-Speakers, current Member of parliament / Legislators and judicial magistrates are elected. For most convicted politicians, getting this special status is a gateway to better accommodation.
Question – How are VIP cells, what is their purpose?
The purpose of VIP cells in prisons in India has always been to protect VIP convicts from other inmates and separate them from the rest of the prison. The government spends on more security and better maintenance of these cells.
prison act1894 and Model Gel Manual
According to the Prisons Act of the Indian Constitution, no prison official should profit by selling something to a prisoner or allowing its use. Similarly, the officer should have no interest in any contract for prison supplies; Nor shall he derive any profit from the sale or purchase of anything on behalf of the prison or belonging to any prisoner.
Question – Satyendar Jain can buy any goods from outside
The Prison Act does not allow this. He says that if a prisoner receives, possesses or carries any article, the Act considers it a punishable offence. Several cases were reported in which prisoners were found using cell phones. The law does not allow this. Though the administration of prisons comes under the state governments, it is the Prisons Act which is followed as a rule book.
Question – What is Model Jail Manual
Each state has its own prison manual with the state government having the authority to change prison laws, rules and regulations. The Ministry of Home Affairs prepared the Model Prison Manual in 2003 based on the recommendations of the committee, which was set up to review the laws governing the management of prisons and the treatment of prisoners. The manual ensures that the "basic minimum requirements" of the prisoners which are compatible with the dignity of human life should be met. But it does not give any special exemption to politicians or actors serving rigorous imprisonment.
prisoners who got vip treatment,
The arrest of former Tamil Nadu Chief Minister Jayalalithaa is a case in point. Convicted in the disproportionate assets case, Jayalalithaa stayed in the VIP cell in Bangalore Central Jail. There are also five other VIP cell cells in the jail. These VIP jails once housed former Karnataka Chief Minister BS Yeddyurappa and other former ministers like G Janardhana Reddy and SN Krishnaiah Setty.
In Punjab, Bibi Jagir Kaur, who was convicted for kidnapping her daughter, received royal treatment in Kapurthala Jail. A video footage showed how prison officials reached out to greet him upon his arrival at the prison. The 2G scam convict Kanimozhi or the culprits of the Commonwealth Games scam also got VIP treatment.
Amar Singh got the best care of VIP prisoners in Tihar Jail. Home-cooked food and European toilets are believed to have been found. Despite being convicted in the fodder scam case, Lalu Prasad Yadav got VIP category treatment in Tihar Jail.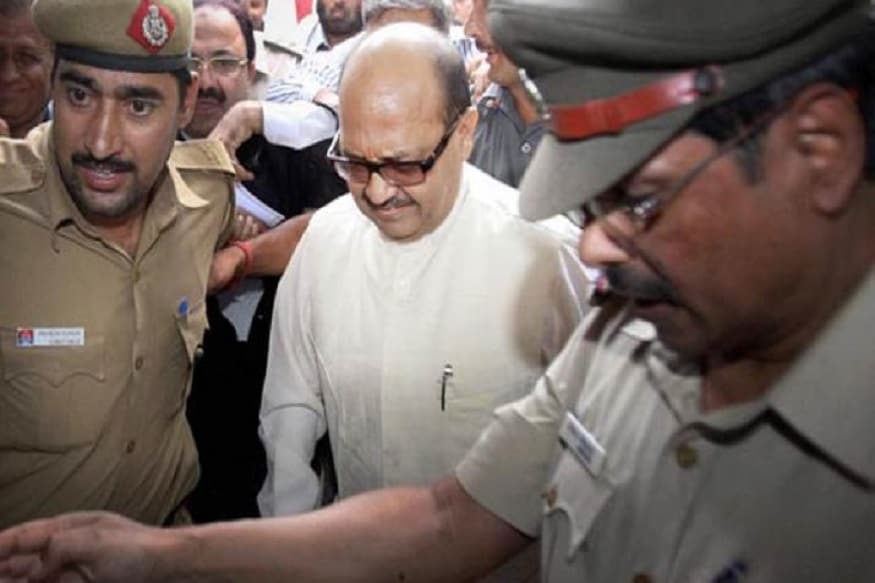 salman khan was allowed to eat ghar ka khana
Megastar Salman Khan was also allowed to have food from home and was seen sitting on a chair with the officials, while the officials were standing.
Question – Have questions ever been raised on these
In 2014, 175 prisoners lodged in the security ward of Delhi's Tihar Jail went on a hunger strike for seven days. In the complaint sent to the jail's IG and police commissioner, the prisoners have alleged that VVIP facilities are being provided by the jail authorities to VVIP prisoners like former Chief Minister Omprakash Chautala, Gopal Kanda, UP's Bahubali MP Dhananjay Kumar and Manu Sharma by taking bribe.
Question – Can facilities be obtained by paying money under privilege
Sahara India Pariwar chief Subrata Roy, imprisoned in Tihar Jail, had paid Rs 31 lakh for privileges for 57 days. These included an air-conditioned room, western-style toilets, mobile phones, Wi-Fi and video conferencing facilities. The bill of Roy's company came to Rs 54,400 in a day. Because he had said in the court that if he did not get these facilities in jail, then his daily business would be affected.
First read breaking news in Hindi News18 Hindi| Read today's latest news, live news updates, most reliable Hindi news website News18 Hindi.
Tags: AAP, Central Jail, Satyendra jain, Tihar Jail
FIRST PUBLISHED : November 24, 2022, 16:03 IST