e-Mudra Loan:- To promote the small enterprises in INDIA, the government of India introduced PMMY (Prime Minister Mudra Yojana ) on April 8, 2015, for providing loans up to 10 lakh to non-corporate, non-farm small/micro-enterprises. These loans are assorted as MUDRA loans under PMMY. These loans are given by Commercial Banks, RRBs, Small Finance Banks, MFIs, and NBFCs. The borrower can approach any of the lending institutions mentioned above or can apply online through this portal http://www.udyamimitra.in. Mudra loans can also be taken by enterprises online through a Bank website known as e-mudra loan.
Under the guidance of Pradhan Mantri MUDRA Yojana (PMMY), MUDRA has already created it's inceptive products/schemes. The intercession has been named 'Shishu', 'Kishor' and 'Tarun' to signify the stage of growth/development and funding needs of the beneficiary micro unit/entrepreneur and also to provide a reference point for the next phase of graduation/growth to look forward to.
The financial limit for e-Mudra Loan schemes are:-
a. Shishu: loans up to 50,000/-
b. Kishor:  loans above 50,000/- and up to 5 lakh.
c. Tarun:  loans above 5 lakh -10 lakh.
MUDRA's delivery channel is contrived to be through the route of refinance primarily to Banks/NBFCs/MFIs.
At the same time, there is a need to develop and expand the delivery channel at the ground level. In this context, there is already in existence, a large number of 'Last Mile Financiers' in the form of companies, trusts, societies, associations, and other networks which are providing informal finance to small businesses.
MUDRA Purpose
The primary purpose is to attain development in an inclusive and sustainable manner by supporting and promoting partner institutions and creating an ecosystem of growth for the micro enterprises sector.
MUDRA Vision
To be a desegregated financial and support services provider par excellence, benchmarked with global best practices and standards, for the bottom of the pyramid universe for their comprehensive economic and social development.
What is SBI e- mudra Loan ?
SBI (State Bank Of India ), which is one of the largest public sector banks in India, also provides Mudra loans to micro, small and medium enterprises (MSMEs ). SBI e-mudra Loans can be availed to meet various business requirements, like – business expansion, modernization, buying machinery, and other business-related purposes. Mudra Loan can be availed by Non – cooperate small business segments comprising small manufacturing units, service sector units, shopkeepers, vendors, repair shops, artisans, etc. through SBI bank. If you have SBI savings and Current accounts you can also apply for the SBI Mudra loan up to 1 lakh online through the SBI e-mudra portal https://emudra.sbi.co.in:8044/
How to apply for an e-mudra loan?
1. Firstly, Visit the official website of the financial institution with which you wish to avail of the Mudra loan and download the form (Shishu, Kishore, Tarun).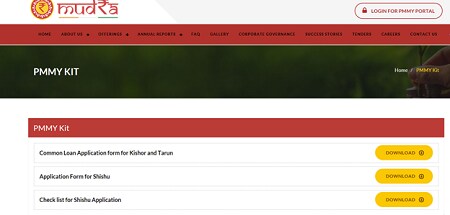 2. Download the form of the loan you require and enter all your personal and business details like your Name, Date of Birth, Residential/ Business Address and educational qualifications, etc. in the Mudra loan application form.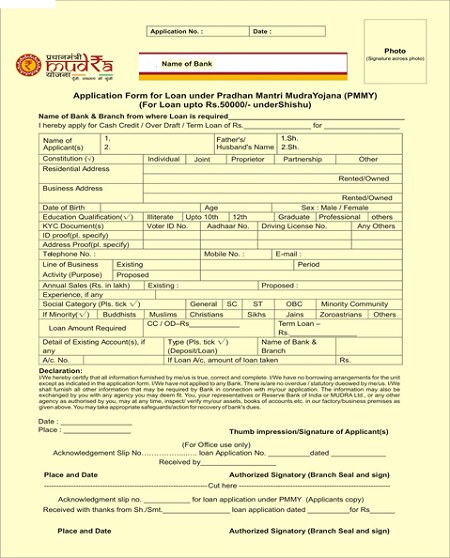 3. Submit the application form along with the required documents with the bank or lending institution you are applying with.
4. As soon as the Mudra loan application form & attached documents are processed and verified, the loan shall be approved followed by the disbursal of the loan amount.
e-Mudra Loan BANK OF INDIA
BOI (Bank of India)  is one of the most reputed banks in India, which offers a variety of categories of business loans and MSME loans to its customers. Mudra loan under Pradhan Mantri Mudra Yojana (PMMY) is one of the government-initiated schemes that the Bank of India offers to its customers. The loan amount and interest rate offered by the Bank of India depends on the applicant's profile and business requirements.
Features of BOI – e-Mudra Loan – 2021:-
1. Promotes Startups and Micro, Small, and Medium Enterprises (MSMEs) engaged only in services, trading, and manufacturing sectors.
2. Competitive Interest Rates.
3. Loan amount: Minimum amount has no limit and the maximum is up to Rs. 10 lakh.
4. Repayment Tenure: Maximum up to 36 months for demand loans and 84 months for term loans.
5.No processing charges Borrowers would not charge any processing fee which ideally ranges from 1% to 2% of the loan amount.
6. Nil foreclosure or pre-payment charges.
7. Collateral/Security – Hypothecation of all assets is required, along with the personal guarantee of directors/promoters.
8. Margin: Nil for Shishu Category and 15% for Tarun and Kishor category.
Eligibility for e-Mudra Loan:-
Any individual including women, proprietary concern, partnership firm, private limited company, or any other organization is an eligible applicant under PMMY (Prime Minister MUDRA Yojana ) loans.
The purpose of e-Mudra Loan:-
For setting up of new/upgrading existing Micro business enterprises in the manufacturing, processing, trading, and service sector and carrying out activities integrated to agriculture, financing to weavers and artisans (income-generating activity).
Also Read:- DHARANI
How to get SBI e-mudra Loan ?
To avail Mudra loan from SBI, you must meet the following eligibility criteria:-
Must have maintained SBI's current / savings account for at least six months
Existing customers sharing relationships with SBI in the form of Savings Account / Current Account (Individual) can apply for an e-MUDRA loan of amount Up to Rs. 1 lakh by visiting the SBI e-mudra portal and following the below-mentioned steps:
Firstly, Select Pradhan Mantri Mudra Yojana Application Form.

then, Visit the SBI official website

https://emudra.sbi.co.in:8044/emudra

 and click on 'Proceed'.

 Provide the essential details such as:- the applicant's Aadhar card for e-KYC purposes through UIDAI, as the e-KYC & e-sign need to be completed through OTP authentication for loan processing and disbursement.

as soon as all the SBI formalities & loan process is completed, the applicant shall receive an SMS that will affirm to commence the further process by readdressing the e-MUDRA port.

 This process needs to be completed within 30 days after the receipt of the SMS of loan sanction.
SBI Mudra Loan Eligibility
Applicant must be involved in a non-farm income-generating

activity,

either in manufacturing or in the services sector.
The applicant should be domiciled at the same location for at least 2 years.
Documents required for SBI e-Mudra Loan
To apply for a MUDRA loan, you need to submit the following documents, in addition to the loan application form:-
Duly filled application form with passport-sized photographs.
KYC documents of the applicant:- Passport, Voter's ID card, Aadhar Card, Driving License, and PAN card.
Details of Savings/Current Account number and branch.
Proof of Business (Name, Start date & Address ), UIDAI- Aadhar Number (should be updated in Account Number).
Community details i.e:-(General/ SC/ ST/ OBC/ Minority) and additional information for uploading like GSTN & UDYOG Aadhar.
Proof of Shop & Establishment and business registration and Any other document required by SBI.